Bordatino
Bordatino is another typical recipe of the island of Elba that reminds us of the past, when men were farmers or mainers and they used to eat bordatino, a veggie soup. This soup was brought to the island by tuscan emilian apennines lumberjacks and peasants who worked in Elba in winter. Those precious and hardworking workers used to bring from their towns a small pack of corn flour and one of dried beans to add them to the food they got. The name bordatino probably comes from the edge taking shape on the soup once you put it in a plate.
Ingredients: two liters of water, 350 gr of whole corn flour, 2 bunches of black cabbage, 2 onions, 60 gr of tomato sauce, salt, extravirgin olive oil.
Process: put the previously sliced onion in a pan with extravirgin olive oil and a spoon of water. Add the tomato sauce, let it cook for few minutes and add the finely chopped black cabbage. Add water if needed. When it's about to boil add corn flour being careful not to get lumps. Keep cooking it on low heat for 45 minutes, stirring it with a whisker or a wooden spoon. If it thickens too much you could add more water, but it has to be very hot. Serve it warm. Fresh herbs croutons will go really well with this soup.
Elbaworld suggests
Discover places and attractions nearby.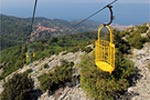 Discover incredibly beautiful excursions on Elba Island.