The imbollita with figs
The imbollita with figs is an important dessert that is prepared for the Christmas holidays, served on the tables, together with the chocolate panficato.
Ingredients: 300 g dried figs, 1 litre water, 30 g anise, 2 grated rind oranges, 500 g spelt wholemeal flour, a little salt.
Preparation: boil chopped dried figs in a liter of water together with the anise and the grated rind an orange. Add salt and boil for 15 minutes. Add a part of flour by drizzling in (about 300 g turning with a wooden spoon). Cook until mixture is dry. Roll out the dough on a floured surface, incorporate the rest of anise and the remaining finely chopped orange peel. Form small schiacce about 2 or 3 centimeters and large as the palm of a hand. Bake in the oven-dry, turning schiacce from time to time. To get a good cooking, let it in the oven for 30 minutes.
Elbaworld suggests
Discover places and attractions nearby.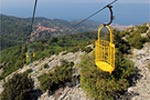 Discover incredibly beautiful excursions on Elba Island.