Castagnaccio
-
Even though it's a cake baked mostly during fall, you can eat it all year round at Elba. Once chestnuts season is over, it's made in winter and spring with chestnut flour previously stored. It's a cake of the so called, like many other elban cakes, "peasant food", and even before tasting it you will be mesmerized by its strong and full of personality flavor.
Ingredients: 750 ml water, 500 gr chestnut flour, 100 gr walnut kernels, 6 spoons extravirgin olive oil, 100 gr pine nuts, a handful of fresh rosemary, 1 spoon of salt, 80 gr raisins.
Process: to make the typical tuscan castagnaccio, first of all preheat your oven at 200 ° c.
Put the raisin in a bowl filled with lukewarm water to rehydrate it and then sift the flour in a large bowl to get rid of any lumps.
After adding a generous pinch of salt, add water bit by bit to the chestnut flour, mixing it with a whisker till you get a well mixed and soft batter. Squeeze and dry the raisins and add it to the batter along with pine nuts and roughly chopped walnuts (keep a small amount of these three ingredients aside , you'll put them on top of castagnaccio before putting it in the oven).
Take a low pan with 40 cm of diameter, and then brush it all over ; place the batter in it, it should be 1 cm hight. Sprinkle the top of the batter with the ingredients you previously set aside and with rosemary , add two spoons of extravirgin olive oil. Put it in the oven for 30 minutes at 200 ° till it's golden brown and dried fruits turn into a nice golden brown color.
Elbaworld suggests
Discover places and attractions nearby.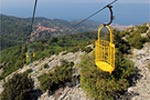 Discover incredibly beautiful excursions on Elba Island.