The Schiacca Briaca
A dessert that can not be missed at the end of each lunch is the "schiaccia briaca". It is a very special nearly dry pasta cake, not leavened, without eggs and with ingredients that they would give Arab origins, but the formidable Aleatico all'Elba, " withered red wine" testifies the elaboration of the original recipe and it justifies the name briaca = drunk. It is a mixture of flour, Aleatico, sugar, nuts, and unshelled almonds, raisins, pine nuts, good olive oil, coloured finally archermes. The dough should be poured into an iron pan already buttered and floured, put in oven at 180 degrees. The result is a dessert that takes you to drink other and it's well to long conservation, in fact in the past was present in the galleys of the island's people going to sea.
Ingredients: 500 g flour, 250 g whole cane sugar, 200 g walnuts and almonds, 100 g raisins, 1 dl extra virgin olive oil, 1 yeast beer nut, 1 glass alchermes, 1 glass Elba Aleatico
Preparation: in the evening prepare a little bread with the yeast dissolved in a glass of warm water and 100g of flour and let rise overnight. The following day soaking raisins for about 20 min in warm water. Making a well in the centre of the flour, add the leavened bread, add the other dry ingredients, leaving a spoonful of sugar to use for dusting "the schiaccia".
Knead wetting with Aleatic just enough to obtain a homogeneous paste-like consistency of the dough for the dumplings. Transfer the mixture into a greased pan with oil on the surface and distribute the remaining raisins.
Bake at 180 ° C for approx. 40 minutes and at a third of the cooking sprinkle with sugar and pour over the alchermes.
Elbaworld suggests
Discover places and attractions nearby.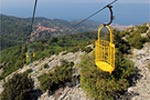 Discover incredibly beautiful excursions on Elba Island.