Gurguglione
Gurguglione is a peasant food of the elban traditional rural culture from the village of Rio. It needs fresh vegetable to be perfect: bell peppers, aubergines, zucchini, onions, ripe tomatoes and thinly sliced or finely chopped potatoes. Vegetables get in the pan with oil, a pinch of chili and a pinch of salt along with chopped basil and parsley. Gurguglione is served hot .
Ingredients: 1 big onion, 800 gr of red, green and yellow bell peppers, 3 big aubergines, 2 zucchini, basil, parsley, 600 gr of ripe tomatoes, 5 potatoes, ½ kg of bread, you can use stale bread as well.
Process: cut the aubergines, potatoes and zucchini roughly. cut the bell peppers stem off, cut them in four pieces, then roughly chop tomatoes. Cut the onion into thin slices. In a steel or copper pan cook potatoes for 5 minutes first, then add the other ingredients with a pinch of salt, oil, chopped basil and parsley. Put a lid on the pan and let it cook on high heat at first and then to medium heat, without taking the lid off, so that the veggies will cook in their own liquid.serve it hot in soup bowls along with grilled bread slices.
Notes:among local recipes made with cooked vegetables, gurguglione is a historic attempt at mediating between peasant food and healty and delicious natural ingredients. You need to use only fresh vegetables for a perfect result.
Elbaworld suggests
Discover places and attractions nearby.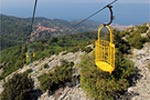 Discover incredibly beautiful excursions on Elba Island.