Elba Muscat straw wine, PDO
Elba Muscat straw wine is a PDO wine with 100% of Muscat grapes, selected and dried out. It has a straw-yellow color, tending to amber and an intense and unique Muscat aroma. It also has a sweet, soft, silky flavor. The alcoholic graduation is around 13% of acquired alcohol.
The vineyard has a pruned-spur cordon-trained cultivation and the concentration of the cultivation is a minimum of 4000 vine stump per hectare and a maximum production of grapes of 70 quintals per hectare.
The maximum yield of the grapes doesn't have to go beyond the 35% (fresh grapes). After an accurate selection, the grapes intended for the production of Muscat straw wine dry out for at least 10 days en plein air or in specific places. They have to reach the 30% of sugary content.
Gastronomic pairing: fruit pie, pastry and biscuits.
Color: from straw-yellow to amber
Aroma: intense and unique
Flavor: harmonic, sweet, full-bodied
Alcohol by volume (minimum): 18%, at least 12% acquired alcohol
Total acidity (minimum): 6 g/l
Dry extract content (minimum): 30 g/l
Serving temperature: 12o-14o
Historical background
The Muscat is an ancient vine, ancient as the Aleatico and grown in only 5 hectares. It is not so present in the Elban market even if in the last few years has been reevaluated.
Elbaworld suggests
Discover places and attractions nearby.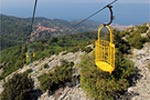 Discover incredibly beautiful excursions on Elba Island.