Elba Red Reserve wine
Elba Red Reserve wine is made of the same grapes of the Sangiovese up to the 60% , and of other grapes authorized by Tuscany Region up to the 40%. Unlike the Sangiovese, the Reserve wine has an ageing not inferior to 24 months. The wine is at least 12 months in wooden casks and 6 months in bottles. It has an intense ruby-red color tending to garnet. It has an intense aroma of red fruits and spices, and a dry full harmonic flavor.
The vineyard is cultivated with pruned-spur cordon-trained vines, with a minimum density of 4000 stumps per hectare and a maximum grapes production of 80 quintals per hectare.
During the process of vinification the grapes are pressed and de-stemmed. The must , then, ferment around 7 days in contact with the skins. After this week there is the raking of the free run wine and the crush of the skins processes. The wine, then, is leaved to age and to stabilize in steel or wooden casks till it is the moment of bottling it.
To obtain the label "reserve", this wine has to age a minimum of 24 months, and at least 12 of them in wooden casks. The aging period starts the 1st of November of the year of the grapes production.
Gastronomic pairing: red meat roasts, game, aged cheese. It is well paired with games like boar meat.
Color: intense ruby-red
Aroma: vinous
Flavor: dry
Alcohol by volume (minimum): 12.5%
Total acidity (minimum): 4.5 g/l
Dry extract content (minimum): 24 g/l
Serving temperature: 12o-14o
Historical background
Sangiovese, or, more precisely, Sangioveto, autochthon Elban biotype, take up around 60 hectares and it is the main component of Elba Red PDO and of Elba Rosé PDO. It has small grapes and bunches. With the improvement of the vinification's techniques, the Elban producers decided to create a more sophisticated wine, near to the international taste which prefers more structured and aged wines.
Elbaworld suggests
Discover places and attractions nearby.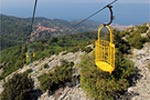 Discover incredibly beautiful excursions on Elba Island.