Elba white wine A.C.O
The elba white wine A.C.O is made with tuscan Trebbiano grapes from 10 to 70% ( or Procanico, very common in Elba ), Ansonica and Vermentino, on their own or together to a maximum of 70%. Other white grapes to a maximum of 30%. The elba white wine's color is pale yellow or very pale yellow, the smell is winey with a delicate flavor, the taste is dry and harmonic.
The vineyard is spurred cordon shaped, with a minimum density of 4000 vinestocks per hectare and a maximum production of 90 hundredweight per hectare.
The white winemaking usually happens in steel vats where temperature is constantly checked and it lasts about 7 days, followed by stabilization , ending with bottling, which usually happens the next spring after the harvest.
Recommended pairings: not to savory or spicy seafood , it goes especially well with starters, seafood pasta dishes with white sauces, grilled fish, fried fish and steamed fish.
Color: light pale yellow
Smell: winey and delicate
Taste: dry and harmonic
Minimum alcoholic strenght: 11°
Minimum total acidity: 5g/l
Minimum dry extract content: 15 g/l
Best served at: 8 ° 10°
Background
Procanico is a variety of tuscan trebbiano with rose grapes , rich in sugar and less productive than Trebbiano. It's always been grown in Elba, where it takes more than 150 hectares and it's the main ingredient of the Elba white wine A.C.O. in the last few years it's been joined by Vermentino and Ansonica.
Due to the different variety of grapes percentage, the elba white wine could be extremely different depending on the winery that makes it.
Elbaworld suggests
Discover places and attractions nearby.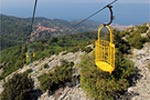 Discover incredibly beautiful excursions on Elba Island.