La Foce beach
La Foce beach Tourist information
Sandy beach in the Municipality of Campo nell'Elba
Features of La Foce beach:
Length: 1,550 meters - Average width: 25 m
Exposed to: Southeastern winds
Sheltered to: winds from West to East
GD: 42.745016 - 10.245041
GMS Latitude: 42 ° 45'0.578''N - Longitude: 10 ° 14 '42.146''E

---
Description of La Foce beach
The beach of La Foce is located on the opposite end of Marina di Campo's village. Here it has grown the seaside tourist resort of La Foce, which offers a high number of accommodations including campsites, hotels and apartments for rent. The beach of La Foce, is nothing but an extension of the beach of Marina di Campo, so it's the same beach with the same features but with access from the opposite side, which is about 1500 meters from the village.
As the beach of Marina di Campo is very long and crowded also on the side of La Foce, we felt necessary to describe its characteristics also given the presence of several accommodations and the tourists visiting it. The beach is mostly made of sand that slopes gently into the sea, therefore suitable for families with children. On the east side there is a cliff and the bottom becomes rocky, this stretch of coast is popular among those who enjoy sunbathing on the rocks and snorkeling.
On the beach there are free access areas, but most of the services are offered by the seaside bars and beach clubs on the shore, where you can rent umbrellas, sunbeds, paddle and even motor boats.
Access to the beach of La Foce
You can reach the beach of La Foce from Via del Monumento road, about 500 meters from the roundabout along the provincial road leading to Lacona towards Capoliveri and Porto Azzurro. It is only 2 km from the town center of Marina di Campo and it is frequented also by guests of the nearby villages of Filetto and Bonalaccia.
Amenities available on this beach
| | | | | | |
| --- | --- | --- | --- | --- | --- |
| | Apartments nearby | | Bar | | Boat rental |
| | Bocce | | Campsites nearby | | Crowded in the season |
| | Disabled | | Equipped beach | | Free beach |
| | Hotels nearby | | Lane entrance for boats | | Mooring boats |
| | Parking | | Residence near | | Restaurants |
| | Rocks | | Sandy beach | | Snacks |
| | Snorkeling | | Suitable for Children | | Suited to Kayaking |
Select all
Camping sites
a La Foce
Via del Monumento 628 - 57034 Campo nell'Elba
Residences
a Marina di Campo
Viale degli Etruschi - 57034 Campo nell'Elba
Residences
a Bonalaccia
Loc. Bonalaccia - 57034 Campo nell'Elba
Online availability request
Elbaworld suggests
Discover places and attractions nearby.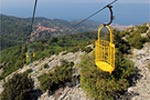 Discover incredibly beautiful excursions on Elba Island.