Viticcio - Biodola
Walk through the Mediterranean forest on the coast of Portoferraio.

--INTRODUCTION--

Approximately 5.0 km itinerary- Middle difficulty

Starting point: Viticcio

We start from the parking behind the residential area of Viticcio and descend along the path, up to the restaurant Giacomino, overlooking to the sea. From here starts the ladder leading to the uphill path, close to the sea, towards Punta Penisola (the route runs on dirt paths, so wear shoes appropriate for excursion). The track enters in a holm oaks forest, then ends up into a
Mediterranean forest from which we can see the entire gulf and Cape Enfola; then it plunges back into a holm oak plantation, alternating flat sections and uphill sections.

After a last flight we arrive on an open space where the track splits into three branches; we follow the middle one and we begin to descend into the valley behind the locality of the Forno, after a long descent among the scrub and pines. We carry on the small beach, then we walk along the road through the residential area and abandons it passing through high maritime pines. A little further on, on the right, we find the walkway, indicated by a sign, that guides us to Scaglieri. The concrete track winds between high fencing walls and immediately ends up behind the picturesque village. We descend on the fabulous beach and pass on the beach of Biodola, thanks to the sidewalk over the rocks which divide the two bays where we can enjoy the beauty of clear sandy shore.
Elbaworld suggests
Discover places and attractions nearby.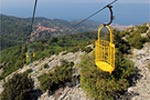 Discover incredibly beautiful excursions on Elba Island.