Procchio Beach
Nice 2-kilometer-path of the promenade of Procchio.

--INTRODUCTION--

Itinerary of approximately 2 km of normal difficulty

Starting point: la Guardiola-Arrival point: Procchio Beach

This route starts from the far western side of Procchio Beach, close to Punta Agnone. From here we walk along the beach, characterised by a fine sand and sometimes by a multicolored gravel, heading East, enjoying the wonderful view of the picturesque gulf.

Once arrived at log cabin of the Nautical Association La Guardiola, we find the ladder which leads us on the path running flat on the sea, along the fence of some villas. Then the track goes down, thanks to a staircase, to the passage close to the rocks which allows us to reach the small cove of Guardiola, which was the customs headquarters in the distant past.

We traverse the beach and reach the extreme eastern point of the gulf of Procchio. Then we climb the stone steps, among agaves and scented shrubs during spring, to arrive nearby the old building, which is now a private ownership.

From this location we can have an overview on the open sea, on the coast of Marciana Marina and all over the gulf. At the end we return to the starting point coming back on the same way.
Elbaworld suggests
Discover places and attractions nearby.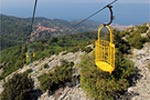 Discover incredibly beautiful excursions on Elba Island.