Walk La Foce – Ischia
Path of about 2,5 km of normal difficulty
Starting point: La Foce – Ending point: cala dell'Ischia
We start from the car parking near the beach of Marina di Campo, we are in La Foce in the opposite side of the bay to the town of Marina di Campo. The path consists of a dirt path, so it is recommended to wear the proper excursion shoes.
From the parking, we continue to the tip of the sandy in front of the Camping La Foce and take the ladder that goes up a bit bumpy among the rocks, near the slipway for small boats. The narrow passage proceed through some houses and comes out on an uphill paved road up to the height of the Residence and Apartments for holidays Eden. From here starts the dirt track that will lead us to the Caletta dell'Ischia.
The path winds along the coast close to the sea and offers a wonderful panoramic view on coast of Campo and the beautiful beach of Marina di Campo. During our journey, we will notice that suddenly the road turns into a small straight path surrounded by Mediterranean vegetation. At the height of a cottage, the trail descends slightly, and you can see a few meters from the shore the rock called Portocaccamo Island. Then the path comes close to the Caletta dell'Ischia where we can see the ruins of the homonymous house check by a grove of pines.
We recommend a bath in these wonderful waters, but pay attention to the path that winds on small ladders formed between the rock and sharp rocks for which it is advisable to wear a proper shoes. Here it is also very nice snorkelling and sea watching, and after a refreshing and rejuvenating bath can retrace the path of going.
N.B: This is also a starting point from which a path leads from the bottom of the treacherous features ideal for trekking.
Elbaworld suggests
Discover places and attractions nearby.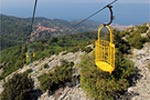 Discover incredibly beautiful excursions on Elba Island.