Elba liqueurs
From the fruits, in addition to the jams, many are the liqueurs entered the popular tradition of Elba, as mirto (myrtle), limoncino (lemon liquor), arancino (orange liquor) and mortella (other myrtle liquor). Moreover, they are produced at Elba in addition to classic liquors, even the creams, grappa and lately an herbal bitter. The "limoncino" and the "mirto" are two easily available products in any Elba family, which is dedicated to the collection and processing of these liquors for personal use.
It is surely an excellent and appreciate idea to buy the Elbe liqueurs that you can gift to relatives and friends when you return from your holiday. These liquors can be buy directly at the place of manufacturing, which is located in Campo nell'Elba in loc. Capannili at Via Costa Nera 308 in the industrial area, the producer is Smania Liquori dell'Elba.
Elbaworld suggests
Discover places and attractions nearby.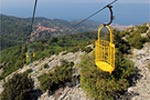 Discover incredibly beautiful excursions on Elba Island.