Giannutri
Giannutri island is located about 8 miles south-east Giglio island, to which it belongs administratively. With an area of ​​2.6 km², 3 km long and 500 meters wide it belongs to the Tuscan Archipelago and it is the southernmost island. Its territory is entirely protected by the Tuscan Archipelago National Park. To that also belongs the wonderful marine reserve that laps a large part of the coast where the vertical walls rich in sea fans, sponges and corals, make underwater excursions something to remember, especially if you visit the wreck of a Roman ship in the depths of Punta Scaletta.
Giannutri consists of four hills of which Poggio Capel Rosso (88 meters above sea level) is the highest peak on the island. Right on this peak was built, in 1861 during the Kingdom of Italy, the lighthouse to facilitate boat navigation. Giannutri's coast is rocky and jagged with wonderful quiet coves and undersea caves. Giannutri has two small moorings: Spalmatoio Cove at South-East and Maestra Cove on the northwestern side. The village of Giannutri is known as Spalmatoio Ischiaiolo and it includes few scattered houses where about 30 people live all year offering apartments for rent as only type of accommodation. To visit the island of Giannutri, it is necessary to embark on the ferry from Porto Santo Stefano, a ride that takes about 80 minutes.
Geologically Giannutri is a limestone island, covered with various levels of Mediterranean maquis and characterized by few holm oak forests that once dominated the whole island. Inhabited since the Bronze Age, it reached its maximum splendor during the Roman Age in which were built the small harbour, which is still pretty preserved and a villa built near Cala Maestra by the Domizi Enobardi family in the second century AD.
The island, being very flat, could not guarantee much safety to its people that could have been easily looted by pirates. The populations that have followed over time have been studying different solutions intended to provide safe fortifications to defend its inhabitants and allow the rise of a civilization on the island, but these plans were never realized.
---
Province: Grosseto
Coastline: 11 km
Area: 12.00 km²
Municipality: Giglio Island
Maximum altitude: 88 meters Poggio Capel Rosso
Position: Latitude North 42 ° 15'14 '' - Longitude East 11 ° 06'13 ''
Distances: 12 km from Argentario and 11 km from Giglio
Elbaworld suggests
Discover places and attractions nearby.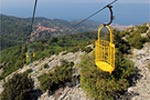 Discover incredibly beautiful excursions on Elba Island.