Island of Elba
Elba is the largest island of the
Tuscan Archipelago
, and is part of the
National Park of the Tuscan Archipelago
. The island of Elba is the closest lying to the mainland and the only one that can look over the Tuscan Archipelago, from the top of mountain Monte Capanne (1019 meters the highest peak of the island and all the island group). The top of the mountain Monte Capanne is also accessible with a cable car.
In fact, only a few kilometers from the island of Elba from the promontory of Piombino. On the maritime route emerged the islands Palmaiola and Cerboli. Surrounded by a natural environment of great wealth of beauty, where the landscapes a competition organized which gives tourists the most emotions. Elba is today certainly one of the most popular beach holiday destination, not only in Italy but also in Europe.
The great variety of geological landscapes of Elba have enriched their story. She was already taken by the Etruscans. For the oldest craft are the miners and masons. And there were also the farmers who cultivate exquisite wine on the terraces and the fishermen of Enfola, which fished the tuna in a special way. Testimonies of a millennial history, crafts, which are born and grown over a long time and have been handed down for centuries.
Today, the island of Elba is divided into eight municipalities: "Campo nell'Elba, Capoliveri, Marciana, Marciana Marina, Porto Azzurro, Portoferraio, Rio Marina and Rio nell'Elba". All municipalities, towns and smaller villages of Elba put today mainly on the tourist industry, thanks to the boom of the 60s and 70s, where the island of Elba emerged as a bathing vacation destination. Not only for beach tourism is Elba well known, but also for the beauty of the landscape, the napoleonic residences, lush vegetation and for water sports enthusiasts Elba is perfect for sailing or kayaking while country of Elba can be explored by mountain bike, by foot or by horseback riding.
Elba offers ist tourists a lot of different beaches. You can find more than 130 beaches on the island of Elba. Among those are fine sandy beaches, pebble beaches, lonely dream bays, or smooth granite rocks, where you can enjoy the sun. The best would be to explore with a rental boat by sea all the beaches.
---
Province: Livorno
Area code: 0565
Distance from Piombino: 10 km
Coast extent: 147 km
Area: 223.5 km²
Municipalities: Campo nell'Elba, Capoliveri, Marciana, Marciana Marina, Porto Azzurro, Portoferraio, Rio Marina, Rio nell'Elba
Elba as third largest island in Italy and the largest one of the Tuscan Archipelago is administered by eight municipalities.
Elbaworld suggests
Discover places and attractions nearby.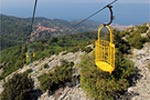 Discover incredibly beautiful excursions on Elba Island.