Kitesurfing
Kitesurfing has become very popular in the last few years and more and more young people do it because they love trying this fun and innovative sport.
The ideal places to do kitesurfing are Elba bays with their
wide beaches
such as Marina di Campo one, Lacona, Procchio and Biodola, especially for beginners for people who are looking for strong emotions the west coast is more exposed to strong winds, especially from Promonte to chiessi, where you'll also find many windsurf lovers. Beaches on this side are quite narrow and covered in pebbles so if you're not skilled the start could be difficult and dangerous.
In the Chiessi area and along the whole
Costa del Sole
it's easy to watch freestylers riding waves and teir amazing air evolutions . just like in the rest of the world, actually, this sport is getting more and more popular and many young people are becoming interested in it , out of curiosity and also because it's a relatively simple sport. You actually need few hours lessons and you'll be ready to start doing this aerobatic sport.enjoy kitesurfing at Elba!
Doing kitesurfing on Elba island is a very fulfilling experience, thanks to the constant presence of winds. If you want to do kitesurfing you have to know that there aren't any schools or renting places at Elba so you will have to take everything you need with you . you will need the board, trapeze and kite and a wetsuit, a helmet and a small knife as well , to be used to cut kite lines in case of emergency.
Some useful information on kitesurfing
Kitesurfing was born in Hawaii, but has now become a mainstream sport all over the world. It's a style of aerobatic windsurf that needs a special board and a kite controlled by a control bar linked through thin synthetic fiber kite lines unlike windsurf, it's possible to kitesurf even with mild winds (between 12 and 30 knots), choosing the size of the wing according to them: obviously the less windy it is the bigger the kite will have to be.
Elbaworld suggests
Discover places and attractions nearby.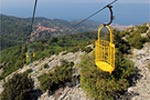 Discover incredibly beautiful excursions on Elba Island.