Riding a horse
Elba island is all to be explored, maybe in spring or fall and why not doing that by
riding a horse
. This is the perfect time to horse ride , the island isn't very crowded at this time of the year and it's actually possible to be surrounded by nature with what used to be the favorite form of transport back in the days. Among the thousand elba paths you could also explore old muletracks , roads used in the past to carry goods with mules, donkeys or horses.
Getting close to this reality and being able to smell the fragrances of fields in bloom in spring, or of woods full of mushrooms and chestnuts in fall is a unique sensation that you can't miss. Elba island also offers guided horse rides along its spectacular and panoramic paths, with F.I.S.E.guides to guarantee total safety for all horse ride lovers (beginners and children included). Horse rides are very panoramic and they offer several routes that are able to please skilled riders as well as beginners.
There are several routes for trekking and mountain bike tours, and some of them are suitable for horse riding as well. You could ride along the paths of
Mount Calamita
, discover the panoramic routes of
Mount Tambone
that go from Laconella to Fonza, ride through the middle valleys going through the
Mount Orello's
route and go up through
Mount Perone's
paths.
In several equestrian centers at Elba there are guides and instructors available that will lead you to the discovery of evocative mountain and sea places perfect for a horse ride. You could saddle a horse and take riding lessons in these equestrian centers and riding school, suitable for beginners and skilled riders.
Suggestions for horse riders
For riders only: take your usual protective gears with you as they're not always available at equestrian centers and take antiparasitic lotions with you according to the season and the areas you're going to: ticks and insects can be dangerous.

For riders with horses in tow: to take horses on ferry boats on the route Piombino-Portoferraio we suggest to ask shipping companies for information in advance. The shipping company Toremar offers a good service with the boat Aethalia that has got an open area inside the car park deck, where horse aren't affected by the journey not even in summer where temperature can get quite high indoor. In addition to tools for brushing and taking care of horses, we suggest to take harness equipment with you as there aren't any shops at Elba where you can buy them. It's also suggested to take with you first aid and antiparasitic medications for horses as it would be difficult to buy them otherwise.
Elba Riding schools for horse rides
ASD La Bosana Costa dei Gabbiani

Località Ripalte,2 - Capoliveri
Tel. (+39) 0565.942408 – open all year round
(affiliated with FITETREC – ANTE)

Centro Ippico Elbano

Località Monte Orello - Portoferraio
Tel. (+39) 347.0064650 - 347.6395704 – open all year round
(English riding – Affiliated with ENGEA)

A.S.D. - Via Equestre Toscana

Località Capo Bianco - Porto Azzurro
Tel. (+39) 348.7803140
(for hikers with horse in tow)
Elbaworld suggests
Discover places and attractions nearby.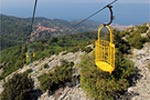 Discover incredibly beautiful excursions on Elba Island.