What to do if it rains?
The island offers many things to do even if the weather is bad and it rains which luckily doesn't happen so often.
An estimation suggests that on average there are sixty days of rain in a year compared to two hundreds days of nice clear weather. However, if you get a rainy day do not worry because there are valid alternatives to spend a nice day in Elba.
Among other ways to spend your day, we suggest you to visit the two Napoleon Museums located in Portoferraio: Villa Mulini to be found in the old town, while the summer residence of Villa di San Martino is in the countryside before reaching Portoferraio if you come from Procchio and it is well indicated with a signpost along the road.
Also worth visiting is the Aquarium of Elba in Marina di Campo, to be found in the location Segagnana few metres away from the better known area of La Foce. Else you can go to MUM the new Gemological Museum in San Piero near Facciatoia Square, or visit one of the many mineral museums in the villages of Capoliveri, Rio Marina and Rio nell'Elba which hold some of the most beautiful and valued crystallization of minerals which have made Elba famous all over the world for its geological heritage.
For those who want to arouse their appetite, we suggest to take a visit to the farms of Elba where you will have the chance to taste excellent local wine and purchase delicious extra virgin olive oil from Elba. In addition you will be able to discover, appreciate and buy typical products from Elba such as handcrafted jams, honey of Elba, preserves, oil products, typical sweets, rolled pasta through bronze Elba, local beers and liqueurs of various flavors.
Elbaworld suggests
Discover places and attractions nearby.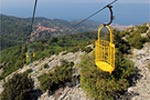 Discover incredibly beautiful excursions on Elba Island.