Blessed Sacrament Church
The Blessed Sacrament
church is consecrated to
Saint Mary of the Assumption
and it dates back to 1568. It was built by the confraternity, also thanks to the Capitan Michelangelo De Rossi who offered the plot of land where there is the church in Via Garibaldi (
Portoferraio
city center).
Il 1731 it was enlarged and after the bombardment of the World War II it was restored . Today you can admire the marble altar and a wooden crucified Christ on it. The bishop throne was obtained from Napoleon bed.
The frescos by the Elban painter
Giuseppe Mazzei
(pupil of Barabino) are beautiful and of great value. The one-navy panelled ceiling is decorated with flowers and in the center with the crowning of Mary by
Giovanni Camillo Sagrestani.
On the inner walls there are some late XVIII century paintings by
Cristino Giannetti,
depicting Abram's sacrifice and Elia's dream. There is also a painting depicting the
Mary of the Assumption with Saint Thomas Aquinas
writing her glories.
The furniture dates back to the XVI century, excepting a modern bronze statue of Saint Barbara, a XIX century gold goblet and a XX century missal with silver letters.
The Archconfraternity celebrates in this church the Holy Thursday, the Saint Cross holiday, the Pentecost Monday and assumption holiday on the 15th of August.
On the left of the main door there is a
votive chapel
with a lamp designed by the French architect
Crott.
It is made of the bronze of the Austrian-German cannons and it is dedicated to the fallen of the World War I.
Elbaworld suggests
Discover places and attractions nearby.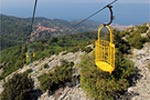 Discover incredibly beautiful excursions on Elba Island.