Galenzana chapel
Galenzana chapel isn't on the land registry map of the 1840. That's why we presume it was built in the middle of the 19th century or in the first years 20th century. It is consecrated to the sacred family, as the portrait in the chapel confirms.
To reach this votive chapel you have to go through a path till the Galenzana beach, where there is a wonderful gulf. The little chapel is surrounded by a luxuriant vegetation: the Mediterranean scrub, offering the visitors extraordinary aromas and any color. If you want to visit it we suggest to have a walk from Marina di Campo port to the beautiful and quite beach of Galenzana through the coast.
The outer of the chapel is in bad conditions, the colors are white and brick red. The entrance has a pointed arch and the front door is missing. The façade is tall and narrow. The pointed arch and the two columns ending with two pyramid shaped pinnacles, make the chapel seem even taller. In the middle of the triangle fronton, which is higher than the roof, there is a small column where maybe there was a cross.
Anecdote
People passing through the chapel pray for their families. On the small altar, on the floor and on the walls there are many inscriptions, thanksgiving, prayers and religious vows. Despite the beauty of the surrounding area, the monument is not well preserved.
Information about the Saint
When you talk about the Sacred Family you refer to three people: Mary, the mother, Joseph, the father, and Jesus, the son. The image of the Sacred Family inspired many famous painters, such as Michelangelo (Tondo Doni – Uffizi Museum, Florence). Sometimes the artists have painted other characters with the three protagonists: often little John (the future Baptist) with is mother Elizabeth, or Saint Ann, Mary's mother. Initially, the Sacred Family Day was worshipped in a few places. In the 1921, Pope Benedict XV extended it to all the Catholic Church. Now it is celebrated the Sunday after Christmas or the 29th of December. This celebration, probably, is linked to the desire to ask protection for our family.
Elbaworld suggests
Discover places and attractions nearby.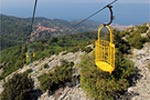 Discover incredibly beautiful excursions on Elba Island.