The lover Maria Walewska Laczynska
On September 1st 1814 reached the beautiful Countess Laczynska Walewska, mistress of Napoleon, with a ship, the Island of Elba. The two met on January 1, 1807 during a dance party in Warschau. With her son Alexander, who was conceived during an affair with the Emperor, her sister and her brother Colonel arrived in Portoferraio, the mysterious woman climbed into a horse-drawn carriage and made located. on the way to a secret place where the emperor awaited impatiently The event was not gone unnoticed by the population of the island, and as quickly spread the false news that the wife Maria Luisa was.
The arrived by small Roman king on Elba two met in Procchio and set out together on the way to Marciana, where they took refuge in the desert of Madonna del Monte to a secret and quiet place. On the morning of the next day Napoleon and Maria take off all seclusion on a horse where the lover of the Emperors of the states in France, the error that had made the Bourbons and informed of the dissatisfaction of the people. After receiving this message, and knew that the visit of his lover could be short-lived, the Emperor took leave very emotional that evening of her and her son Alessandro, who left Elba again.
After that day the two lovers met only once a day before Napoleon's departure into exile on St. Helena, where he died.
Elbaworld suggests
Discover places and attractions nearby.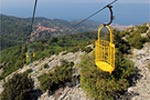 Discover incredibly beautiful excursions on Elba Island.