Sister Paolina
One of the most prominent women in the life of Napoleon Bonaparte during his exile on Elba Island is his sister Paolina Borghese, in second marriage married to Prince Borghese, of which they already lived for some time separated and cultivated an extravagant life.
Napoleon had three sisters, but only his sister Paolina was opposite him affectionate. The beautiful life of Paulina was marked by secret lovers and outwardly from political interests and ambitions. She helped her brother financially by to asked her sister Carolina, who was married to Giovacchino Murat the king of Napoli support that just presented as their personal jewelry available their wealth.
Her first visit to Elba she made in June and end in October 1814 she settled there permanently down. During their stay on the island of Elba, the young 35-year-old Paulina was staying at the Palazzo dei Mulini, in the chambers, which Napoleon had built for his beloved wife Maria Luisa, which never came to him.
The monotonous life in Portoferraio changed abruptly with the arrival of Pauline, which continued the Parisian habits with lunch tables, parties and receptions to the delight of the local population.
It is said that Paolina have loved to go to the nearby secluded beach of Procchio, where she swam naked to the small island off the rugged unspoilt bay. The place is known today in her honor as "Pauline beach and islets".
Elbaworld suggests
Discover places and attractions nearby.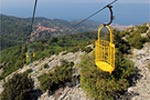 Discover incredibly beautiful excursions on Elba Island.