Torre degli Appiani
The port and the village of Rio Marina are dominated by the ancient
Tower of Appiani,
built in 1534 by Giacomo V Appiano to improve the defensive structure, to control the sea and prevent numerous pirate attacks .
In those years for the Elba coastal towers was done a famous correspondence between
Cosimo I de'Medici
and the Lords of Piombino (Appiani family). The Prince of Florence, concerned at the attacks by Turkish pirates, ordered Appiani family to build coastal defense works to protect their land. Probably, the tower was built after the famous destruction of Grassera in 1553, when the Turks landed in the Bay of Mola and raided and destroyed the old village of
Grassera
(Grassura).
The ihnabitants were captured and sold as slaves to the market of Algiers. In 1882,
the Municipality of Rio Marina
was established with a part of the most historic area of Rio nell'Elba and on that occasion, the tower was restored, building a small square tower on the upper side, with a clock on three sides around. Therefore is often called the Clock Tower.
After years of neglect, served as a werehouse, the Clock Tower has been carefully restored by the Municipality of Rio Marina and the clocks were restored by Locman (important local watch-making company) .Today you can visit various exhibitions during the tourist season. Managed by the
Pro Loco of Rio Marina and Cavo,
in addition to exhibitions, it offers (upon request) the opportunity to visit it, going up to the terrace and enjoy the wonderful view over the village and the port of Rio Marina.
Elbaworld suggests
Discover places and attractions nearby.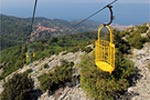 Discover incredibly beautiful excursions on Elba Island.