The Tower of Marina di Campo
The Marina di Campo Tower is a beautiful example of defensive fortifications, of which it is not verified the construction period yet and is located in Marina di Campo in the port area, and it belongs to the town of Campo nell'Elba.

The coastal tower is attested for the first time in 1596, year where it was given under Matteo d'Antonio of San Piero in Campo's charge and afterwards the Spaniards continued to use it as a coastal defense system.

Indeed were Spaniards to build the chapel named after Saint Gaetano da Thiene nearby which allowed a place dedicated to prayer at garrisons at the service at the tower and it is due to this chapel that the town of Marina di Campo was developed in modern times which began just in the stairs area that includes today the ancient tower and the precious chapel.

The Tower of Marina di Campo is a fine example of a watchtower guarding the beach, the small port of the town and its great gulf. The massive construction with a circular plant was founded on a powerful shoe base, where the stone wall measures thickness 180 cm.

The access to the defensive structure takes place through a front door that opens on the mezzanine floor, preceded by a characteristic outside staircase originally with a drawbridge.

The interior of the Tower consists of three levels, with a honeycomb foundation on the first floor and two semicircular arches. On the top of the side of entrance extends a drain, from which it was possible to defend the complex from any possible incursions, where the thickness of the cover vault suggests to the pieces of heavy artillery that towards the sea defended the gulf.

The upper part of the Tower ends with a slightly projecting cresting, where there is a terrace from which you can enjoy a wonderful view and where generally the flag waving.
In 1901 was turned a little lighthouse that marks the entrance to the port of Marina di Campo. Unfortunately, the tower is not open to the public, as bounded as a military zone.
Elbaworld suggests
Discover places and attractions nearby.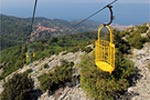 Discover incredibly beautiful excursions on Elba Island.