Forte Longone
The Longone Fort also known as St. James Fort (Forte San Giacomo) stands on the top of the headland overlooking the village of Porto Azzurro. From the historic centre of the village, you can reach it by foot with a walk of about 10 minutes going up the steep, narrow streets.
The walk can be extended and it continues along the scenic coast road to the beach of Barbarossa. The Fort was built like star shape in 1603, under Spanish domination, as the citadel of Antwerp model, a project of Don Garcia di Toledo.

The inside area is not open because there is a prison, but it is worth enjoying the beautiful landscape until to the Calamita peninsula and admiring the walls, thanks to the path along a large part.

Under the management of the viceroy of Naples, Giovanni Alfonso Pimentel de Herrera, the Fort was built with the aim of strengthening the defense system and controlling maritime traffic. During the 17th and 18th century, the Fort become a place of assaults of various powers at war with Spain and the same French besieged Porto Longone and its fortress, during the War of Spanish Succession.

In 1814, as a result of Napoleon's exile in Elba, the Fort was used by the emperor, who used some rooms as his third residence in Elba. At the end of 18th century, the strong defensive structure of the Fort was transformed into a prison, creating work-resource for the country, when Porto Longone fell into severe crisis. Within the walls of the Fort is placed a 16th century church dedicated to San Giocomo Maggiore Apostolo, and therefore the fort is known as the St. James Fort.
Elbaworld suggests
Discover places and attractions nearby.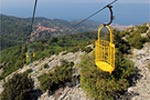 Discover incredibly beautiful excursions on Elba Island.