Fort Focardo
The Fort Focardo is located on the eastern coast of Elba, at the end of the plain of Mola, a plain well cultivated that owes its name to the fact that in front of the gulf there was the ancient port of Capolivieri (Molum).

It stands on a promontory between the Naregno beach and Capo Perla at the foot of the town Capolivieri to which belongs. It looks from its strategic position over the control on the sea of water of Mola and of Porto Azzurro.

Substantial construction of Spanish Age dates back to 1678, in obedience to Don Ferdinando Foscardo, as quotes the inscription inserted inside the portal: "in the year 1678, ruling the invite Charles, of the Spains, his Excellency Don Ferdinando Foscardo, ordered to set up this fort...". The construction of the Fort, was intended to close the southern entrance of the Gulf of Longone and form with the Fort of San Giacomo located above the present town Porto Azzurro, a crossfire of defence system in case of possible attacks from the sea.

Built in just two years, to avoid the danger that any enemy war fleets could bombard the fortress of di San Giacomo of Longone (Porto Azzurro), strategic port in the defence system of the State of Presidi, the project of construction and the construction management ware entrusted to senior Alejandro Piston.

In 1848, was built the the lighthouse, today classed as fourth category as warning type and in the first twenty years of the 1900s was home of Raffaello Brignetti, one of the most famous writers of all time, who spent his youth while his father was the lighthouse keeper. Within the walls of the Fort, he gained experiences that led him to be the Italian sea's most famous writer and Elba became a source of inspiration and a place of fond memories. Every morning with his older brother and he sailed round in nearby Portolongone (Porto Azzurro), where he attended the elementary school.

Today is the Fort owned by the Navy and therefore not open to the public, although significant is the panorama which can be seen standing outside its walls, which gives us wonderful views of the town of Porto Azzurro dominated by San Giacomo Fort and the beautiful scenery of Cima del Monte in the background.
Elbaworld suggests
Discover places and attractions nearby.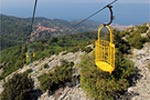 Discover incredibly beautiful excursions on Elba Island.