Marciana Marina Tower
At the end of the large seafront Marciana Marina, along which are ancient trees of Tamarisk, dominates guarding the tourist port, the circular stone tower of Marciana Marina, known as the Marina Towerorthe Appiani Tower.

It supposes that the Tower was built by Pisani in the fifteenth century just to defend the looting of Turkish pirates, who from 1553 to 1555 devastated the Elba at the notorious Dragut's hand. The construction of the tower is attributed to Jacopo VI Appiano between 1558 and 1562, he returned in 1557 with the Appiano family in possession of Elba.

With a cylindrical shape and a modest size, it presents a circular plan resting on a base truncated cone shoe shape, divided from the upper part of the tower by a continuous oversailing courses, which is interrupted at the point of insertion of the external ramp of stairs. The latter leads to the mezzanine floor, where is the front door to the defensive structure, while on the upper part of the tower there is a terrace originally used as a watchtower. In some places of the walls open up loopholes, formerly used for active defense functions.

The building still retains the structural elements that testify to its original defensive function, that with the fall of the Principality of Piombino in 1815 was failed its function and later sold to private individuals where lived the famous Elban writer Raffaeollo Brignetti.

The Marina Tower represents a true symbol for the town Marciana Marina and is the main element not only of the port but the entire town Marciana Marina, so as to be placed within the municipal emblem and after years of claims of marinesi citizens, now is returned the tower as public property.

Behind the Tower is an impressive cliff which reaches the gravel beach of Fenicia equipped with bathing facilities.
Elbaworld suggests
Discover places and attractions nearby.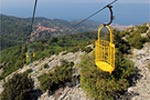 Discover incredibly beautiful excursions on Elba Island.