Giove Tower
Giove tower, known to many with the epithet of Fortezza del Giogo, is situated along the Parata street between the towns of Rio nell'Elba and Cavo, from where a path detaches (indicated as well in cartography with n°59), which in more or less 30 minutes of walk takes you to the tower.

It is situated on a hill on 352 m.a.s.l., from which you overlook the ancient iron mines of Rio and the Piombino canal with the islets of Palmaiola and Cerboli. In the past the structure was rectangle shaped, with a fortified tower that lay on a base fenced by a scarp massive wall. The structure was entirely surrounded by a dry moat in order to increase the tower security.

Today the fortified complex is in ruins along with what remains of the ancient tower. The ancient tower is known as well with the name of Forte del Gioco, built by Iacopo III d'Aragona Appiani on 1459, even though the most ancient structure arose before 1700 (Before Common Era????) where it seems that a temple dedicated to Jupiter arose.

In the years Giove Tower had many usages, from point of vigilance and control on the sea and shelter for Grassera inhabitants, it was an ancient town destroyed by Pirate Barbarossa, which arose near the castle.

The complex was attacked in 1553 by pirate Dragut and then half destroyed in 1708 by Mouroy de Pinel, who was the Spanish governor of Porto Longone (Porto Azzurro). In the end of the wartime, after freeing the square by the enemy grip, he was convinced that Elba inhabitants were too much collaborative with the enemy, and ordered the destruction of many defensive structures in Elba territory.
Elbaworld suggests
Discover places and attractions nearby.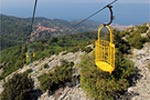 Discover incredibly beautiful excursions on Elba Island.