Travelling by Motocycle at Elba
The Elba Island is perfect to plan an holiday on a motocycle. Thanks to the road system, discovering the Elba' s island by motorcycle is an unique and unforgettable experience where it is possible to travel through the panoramic coasts. You will be free to move without problem avoiding the high season's boring queue, travelling through Elba's paved roads connecting the different places for about 200km.
The streets coasting the Island are full of bends that follow each other and driving along the cost and watching the flowering that Spring gives is a thrilling experience. During the Spring and Autumn season, at Elba, motocycle clubs and Vespa clubs organize meetings mainly dedicated to motorcycle's amateurs. The most famous meetings are held by Vespa Club in Spring, together with the Ducati Desmo Owners Club which takes place in September.
In October 2008, Elba Ilsand has been choosen as the ideal place to show the KTM 690 Enduro. The road net is good (190 km of paved streets), even if is twisted in some points and with the road surface not properly in right condition. It is worth though observing sunshines and breath-taking panoramas. Even if the road paths are very large, it is not allowed to travel by motocycle on them, due to the limitations imposed by the Parco Nazionale Arcipelago Toscano. It is in fact forbidden riding a bike off-road in respect of regulation of LRT 48/94 (see "Parco Nazionale Arcipelago Toscano").
It is recommended a careful driving and a suitable clothing.
If you want to rent a scooter or a motorcycle you can rely to our online rental service and reserve the vehicle you prefer.
INFO TO
Parco Nazionale Arcipelago Toscano Ph. (+39) 0565.919411
Corpo forestale dello stato Ph. (+39) 0565.915067
Online availability request
Elbaworld suggests
Discover places and attractions nearby.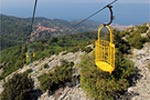 Discover incredibly beautiful excursions on Elba Island.