Holiday for the couple
The Island is a romantic place where a lot of couple choose to marry or to spend their honey moon. Some come from abroad and they dream to celebrate their wedding in a paradise beach. The perfect period for couple to visit the Island, is in low season, where there are not so many people and it is possible to spend the whole day hug in semi-desert beaches, or renting a scooter to travel along the panoramic roads that will allow you to discover unforgettable sunsets. During the evening, you can enjoy your dinner in a restaurant with perfect seaviews.
Here you can find a list of accomodations for couple, providing the right cosiness and facilities for couple's needs.
Online availability request
Elbaworld suggests
Discover places and attractions nearby.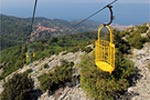 Discover incredibly beautiful excursions on Elba Island.