Islet of Paolina
The
islet of Paolina
owes its fame and its name to the sister of Napoleon Bonaparte
(Paolina Borghese)
, who during the period of exile of his brother Emperor, liked to come to this place to sunbathe and swim. It is said that she loved to swim and sunbathe naked so her skin could be caressed by the wind and by the soft sand of the beach in a quiet and reserved environment.
The islet of Paolina is located on the stretch of coast that goes from Procchio to Marciana Marina, precisely shortly after the beautiful sandy beach of Spartaia.
In front of the shaded beach of Paolina, at a distance of few metres and thus easily reachable swimming, rises the islet which is not much bigger than a rock and has the shape of a small hill covered by lush Mediterranean maquis.
In the past the islet was called Castiglioncello by the ancient Romans, in fact it preserves on its top some archaeological remains of that era.

Reached the islet, also called "Scoglio della Paolina" (Rock of Paolina) by the inhabitants of the island, you can admire the coastline that goes from Enfola up to the promontory of Guardiola.


HOW TO REACH THE ISLET OF PAOLINA


Along the provincial road that leads from Procchio towards Marciana Marina, past the beach of Spartaia, there is a signpost on the right indicating the entrance to the beach and to the lovely seaside resort. The parking spaces are limited and often during the summer high season you have to park your car along the road.

Walk down the path that crosses the Mediterranean maquis consisting of heathers and hollyoaks and you will quickly reach the beach of Paolina. With a few stroke you will be able to swim until reaching the islet and enjoy the unspoiled environment surrounded by beautiful crystal clear waters during days of sirocco.
.
Elbaworld suggests
Discover places and attractions nearby.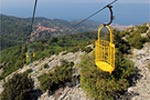 Discover incredibly beautiful excursions on Elba Island.