Grotta Azzurra
The cave of Grotta Azzurra is located along the western coast of Elba in between the beaches of Cavoli and Colle Palombaia. This fascinating marine cave is at the foot of a high cliff leading to the sea at the beginning of Costa del Sole.
Grotta Azzurra of Elba Island is also known as "Grotta di Mare" (Cave of the Sea); its most famous and most used name is due to the special transparency of the sea inside the cave which returns spectacular glares on the seabed and on the walls of the cave according the inclination of sunlight penetrating within it.
Its unique size allows you to enter with small boats, but you need to pay attention to the swimmers who often enjoy snorkeling inside the cave.

HOW TO REACH THE GROTTA AZZURRA CAVE

To visit Grotta Azzurra you have to do it by sea, as there is no way to reach it from the land because its surrounding coast is very high and overlooking the sea. You can discover it by sea with a small motor boat or renting a paddle boat from one of the near beaches, else take a guided day trip on boat departing from Marina di Campo each day during summer. In their excursion program they always stop by Grotta Azzurra for a bath.
Elbaworld suggests
Discover places and attractions nearby.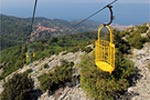 Discover incredibly beautiful excursions on Elba Island.