Climbing in Pomonte

Before reach the country of
Pomonte,
on the right, near a little, granite bridge, which delimits the border between the district of Campo nell'Elba and Marciana, there is a very beautiful granite cliff to do free climbing.
For who loves practice
free climbing,
Falesia cliff is the right place to have fun, from which it's possible to overlook the country of Pomonte.
For people who arrive from
Marina di Campo
in direction Chiessi, the wall is clearly visible because of his arrow shape from which it takes the name.
Technical sheetof the cliff of Freccia in Pomonte
1. Via della freccia diretta L1 5b L2 6a+ L3 IV
2. Via della Freccia diretta variante To L1 5b L2 V L3 IV
3. Via della freccia IV +
Note: The path is marked by red ribbons.
Elbaworld suggests
Discover places and attractions nearby.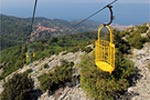 Discover incredibly beautiful excursions on Elba Island.