Falesie Costa dei Gabbiani
How to reach the cliffs of Costa dei Gabbiani
Once arrived to the country of
Capoliveri,
near one small round-about, continue along the slope and follow the indications for
Costa dei Gabbiani.
The first section of the road is asphalted until feeding a dirty panoramic road that we would travel for approximately 10 km. Before arriving to the village, we must turn to the right where you will find an interrupted road close by a chain (to continue it is necessary to ask the keys at the reception of the residence), and you will reach the first two cliffs; the one of
Remaiolo
and that of
Baia dei Pirat
i on the Costa dei Gabbiani.
If you continue the way, you will reach the handling of the horses, where is situated another chain that closes the road which led to
cliffs of Ginepro.
If you continue on foot you will be able to catch up it with a walk of approximately 20 minutes.
Unfortunately being private lands, cars are not allowed to enter freely, and it is necessary to have the authorization, but it is possible to catch up them on foot.
Technical sheet of cliffs in the Baia dei Pirati

1. Capitan Cliff 6°
2. The Bucanieri 6c+
3. Capitan Uncino 6c
4. Spugna 6c
5. Il cavalluccio marino 6b
6. Il veliero fantasma 6b
7. Sette barili di rum 6b+
8. The tortuga 5°
9. L'isola del tesoro 5c+
Technical sheet of cliffs of Remaiolo

1. Il veliero fantasma 6b
2. Perla blu 7c
3. Tridacna 7b+
4. Yemaya 7a+
5. Il segreto di venere 6c+
6. Acqua in bocca 6c
Technical sheet of cliffs of Ginepro

1. Altamarea 5b
2. Dulpherina 5°
3. Cormorano nano 5c
4. Dobloni and Galeoni 5c
1. Dolphina 6c+
1. Cazza la randa 5b+
2. Una bionda tutta d'oro 5c+
3. Octopussy 5b
4. Cozzamara 5a
5. Verdesca L1 5c L2 5b
1. NL
2. L'isola che non c'è 6c
3. Red Viking 6c+
4. The return of space cow boys 7a
5. Hammer Head 6c
6. Tursiope 7a
7. La via del granchio 6c
8. La via dell'orca 6c
9. Manta nera 6a++
10. Il grido del gabbiano 6b+
Elbaworld suggests
Discover places and attractions nearby.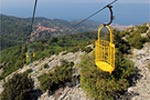 Discover incredibly beautiful excursions on Elba Island.