Cliff of Sant' Andrea
How to reach cliff of Sant' Andrea
Leaving from
the beach of Sant' Andrea
watching the sea on the left, there is an equipped path that leaves behind the wharf and leads us to the flat, seeded reefs of Sant' Andrea, known also with the name of smooth of Sant' Andrea, where during the summer many bathers love sunbathe.
Go further for some meter on foot, exceeding some cliff you will reach
cliff of Balena,
this is a cliff that goes out from the sea showing a back of whale shape from which come the name.
On the left it is possible to see the high reef, where the cliff is equipped to make scrambled up on cliff in a free climbing path close to Sant' Andrea. It has better during the excursion, pay attention to the environmental ecosystem, since in some periods of the year some birds nest in the small cavities of the cliff.
Elbaworld suggests
Discover places and attractions nearby.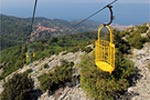 Discover incredibly beautiful excursions on Elba Island.