Madonna of Monte cliff
Technical sheet of the free climbing way
1. Spigolo Caprile 5c+
2. L'alveare 6b+

3. Smeraldo 6a

4. Topazio 6a+

5. Via delle capre 6a+

6. Via del pastore IV

7. Green Feeet 7a+
(*following the photos you will be able to see the plan of the itinerary)
How to reach the cliff of the Madonna of Monte
Arrived in the land of
Marciana,
enter the deviation on the left where is situated a yellow sign, it suggests the direction to Museo Archeologico. Enter the path turning on the left, following the indication until reaching the second crossroad, where it must turn newly on the left, following the indications for
Archaeological Museum
and
Fortezza Pisana.
Here it's possible leave the car in the parking and continue on foot. After about 250 meters, you'll see a grit open space with a huge pine tree in the centre. Continue along the first road on the right that us leads to the cobbled path going uphill towards the Church.
The path represents the Stations of the Cross, in fact on the left side there are 12 chapels, they leave from the country until reach the ancient Sanctuary of the Madonna del Monte. Once you get to the Madonna of Monte church get your water supply from the fountain in the amphitheatre behind the bell tower, at the entrance of the church, where you'll see a sign saying N°. 3 of the CAI for Chiessi and Pomonte; go straight towards the rocks (see photo)... It takes about 30 minutes to get there.
Elbaworld suggests
Discover places and attractions nearby.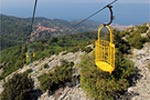 Discover incredibly beautiful excursions on Elba Island.