Feast of Sportella
Every Easter Monday, the festival takes place at the Sanctuary which recalls a miraculous event from which the sacred place would have been born. It is said that a boy from Rio (Domenico Schezzini), crossing this place, saw the miraculous appearance of St. Catherine, who ordered him to tell his fellow villagers to celebrate her every Easter Monday.
The ancient celebration owns its name, feast of sportella, to a typical dessert (sportella), which has a shape reminiscent of the female sex with an egg in the middle (ancient pagan sign of fertility).
During the festival the sportella cakes are blessed and the young girls of the village hand it to their boyfriends.
The celebration is so strong in the traditions of both Buchinai (the inhabitants of Rio nell'Elba) and Piaggesi (inhabitants of Rio Marina), that in the past generated not few proud brawls between the closeby villages, not much Christian but rather much parochial.
Today that pride has lost its intensity, it is habit to visit the hermitage, having a nice picnic outdoors.
Old elban Easter cake, as well as the Cerimito typical of Rio Marina and Rio nell'Elba tradition
Elbaworld suggests
Discover places and attractions nearby.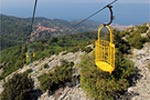 Discover incredibly beautiful excursions on Elba Island.