Elba rose wine A.C.O.
The elba rose wine is a typical elban wine made with the same grapes as the Elba red, with a winey and crisp smell and a dry taste. Made with a minimum of 60% Sangiovese grapes . Other authorized red grapes can be used, both on their own or along with sangiovese grapes, with a maximum of 40%; authorized white grapes are also allowed with a maximum of 20%.
Its vineyards are spurred cordon shaped, with a minimum density of 4000 vinestocks per hectare and a maximum production of 80 hundredweight per hectare.
The elba rose is made from pressed red grapes without the stem, followed by a usually low temperature maceration for 12-18 hours. After that skins and grapeseeds are separated by the pressing. The resulting grape must follows a controlled temperature fermentation , stabilization and bottling, that usually happens in the next spring after the harvest.
Recommended pairings: seafood starters with sauce, broth soups and pasta dishes with red sauces, omelettes, veggies souffles. It goes extremely well with summer dishes such as elban panzanella with tuna and melon and ham.
Color: rose more or less strong
Smell: fresh winey<br/ >Taste: dry harmonic
Minimum alcoholic strenght: 11°
Minimum total acidity: 5g/l
Minimum dry extract content: 16 g/l
Best served at: 10° 12°
Background
Elba island has got a great tradition of rose wines, mostly made with sangiovese grapes. A wine made to be drunk while still young, very refreshing in summer.
Elbaworld suggests
Discover places and attractions nearby.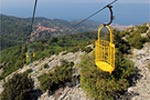 Discover incredibly beautiful excursions on Elba Island.