Elba wine Ansonica D.O.C. (A.C.O)
Elba ansonica is made from at least 85% ansonic white grapes, and from other white authorized grapes till a maximum of 15%. The color goes from pale yellow to gold and it could be more or less vibrant.
The ansonica vineyard is spurred cordon shaped, with a minimum density of 4000 vinestocks per hectare and a maximum production of 90 hundredweight per hectare.
The white winemaking is the one usually used, but a typical fermentation with skins can be used as well. Fermentation usually happens in steel vats where temperature is constantly checked and it lasts for about 7 days, followed by stabilization , ending with bottling, which usually happens the next spring after the harvest.
Recommended pairings: shrimps, prawns and shellfish for the dry version.
Color: from pale yellow to amber yellow
Smell: characteristic, intense and winey
Taste: from dry to harmonic smooth
Minimum alcoholic strenght: 11.5°
Minimum total acidity: 5g/l
Minimum dry extract content: 15 g/l
Best served at: 10° 12°
Background
Ansonica is an old vine variety grown along the Mediterranean coasts, it can be found not only in Elba but also in Giglio Island, Argentario, in Sicily and in Sardinia . it covers a surface of about 20 hectares, it's an average productive vine variety, it gives its best on poor , dry and sunny fields; it's got a thick and crunchy skin and in the past was also sold as fresh grapes.
Elbaworld suggests
Discover places and attractions nearby.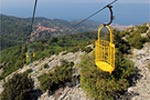 Discover incredibly beautiful excursions on Elba Island.