Elba red wine DOC (A.C.O)
The Elban red wine has got the A.C.O. certification, it's perfect with pasta dishes with red sauces, seafood soups and grilled meat (it's made with at least 60% of Sangiovese grapes, and with 40% at the most of other authorized red grapes , 10% at the most in case of white grapes). The wine is of a ruby red color, the smell is fruity and winy, with a dry and full bodied taste.
The Elban red vineyard is spurred cordon shaped, with a minimum density of 4000 vinestocks per hectare and a maximum production of 80 hundredweight per hectare.
During the winemaking , grapes get pressed and destalked and the grape must brews, touching the skins, for about 7 days . after that there's the racking of the first pressing and of the skins pressing. Wine is then placed in steel barrels to hone and stabilize till it's time to bottle it.
Recommended pairings: pasta dishes with red sauces, grilled meat and seafood soup.
Colour: bright ruby red.
Smell: winey
Taste: dry, slightly sparkly
Minimum alcoholic strenght: 11.5°
Minimum total acidity: 5g/l
Minimum dry extract content: 21 g/l
Best served at: 10° 12°
Background:
sangiovese or, to be precise, Sangioveto, a local biotype, it takes aroun 60 hectares and it's the main ingredient of Elban red wine A.C.O. and of Elban rose wine A.C.O. it's characterized by small bunches and grapes.
Elbaworld suggests
Discover places and attractions nearby.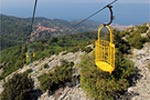 Discover incredibly beautiful excursions on Elba Island.