The Christianity on Elba
During Christianity, Pianosa was repopulated by the early Christians, who digged the catacomb complex on the island, the most important one north of Rome. From that moment the history of the islands and that of Christianity were interlaced. In the Middle Ages the Archipelago became a refuge for monks and hermits who erected monasteries and churches, which blended beautifully with the natural landscape. The oldest traces of the Christian faith are discovered, in fact, in the countryside and in the valleys. Capraia was visited by Eudoxius who builded, in the valley of Piano, the church of Santo Stefano Protomartyr.

Mamiliano, the bishop of Palermo escaped from slavery imposed by the Vandals and reached Montegiove. According to a legend, he there lived as hermit fighting a dragon that succumbed after a tremendous struggle: the island was then renamed Montecristo. San Cerbone, bishop of Massa Marittima and Populonia, took refuge in Elba to escape the Lombard invasion. The sanctuary holding the same name, located on the trails of Mount Capanne, is still a pilgrimage site.

During the second millennium, the Archipelago's history is interlaced with that of the maritime republics and principalities in Tuscany: Pisa, Genoa and the Appiani of Piombino. In this period were erected important religious buildings: the church of San Lorenzo in Marciana, Santo Stefano alle Trane in Portoferraio, the church of San Giovanni in Campo, of San Nicolò in San Piero and San Quirico in Rio nell'Elba. Military defense was also built: in Elba, the fortress of Volterraio and the Tower of San Giovanni located between San Piero and Sant'Ilario; in Gorgona the fortress with the old tower; the defence walls of Giglio Castello; in Capraia the fort S. Giorgio , widely remodeled in the Renaissance.
Elbaworld suggests
Discover places and attractions nearby.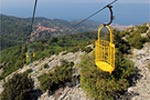 Discover incredibly beautiful excursions on Elba Island.