Street Bike
Elba road network offers the chance to develop wonderful routes, perfect to ride by
street bike
. You can find breathtaking landscapes along the roads developing along elba's coast. The dear old street bike is loved by many and many prefer it to the more contemporary mountain bike.
There are many routes available for street bike, with
different difficulty levels
, some are technically interesting and perfect for those who need a
professional training
. There also are easier routes for people who aren't trained and who just want to do
cycling at Elba
or who just ride a bike as a hobby during the weekend.
Along the coast the landscape is gorgeous, you can see amazing bays and sunny beaches and you can see the shapes of Tuscan archipelago islands in the distance and, when the weather allows it , you can see Corsica island. Elba truly offers any kind of routes, you can ride your bike along challenging climbs, such as Volterraio ones, Monte perone and Monte Tambone ones, characterized by steep descents. For less trained bikers there are wide flat areas with easy routes close to the sea.
Elbaworld suggests
Discover places and attractions nearby.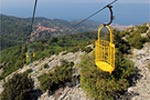 Discover incredibly beautiful excursions on Elba Island.