Sandbank Fetovaia
Lovely to do apnea, and for scuba diving too the
secca di Fetovaia
is located close to the famous beach in front of Le Calle cliff.
It characterized by the clarity of the water, especially during the days with the mistral wind, which becomes dry easily recognizable from the surface.
The dry measuring a depth of 15 meters on the hat, which slopes up to the depth of 50 meters high and 65 meters on the south side overlooking Pianosa facing south-west.

The waters are inhabited by kingfish, octopus, snapper, bream wrapped and barracuda, which find nourishment in this stretch of sea, characterized by rising air currents and favorable temperatures for their natural habitat. Exceeded 40 meters deep, the rock wall is covered by tens of meters from the big red fans, some with yellow spots and the presence of sponges and coralline organisms.

Even the ascent is interesting, it is in contact with the bottom, both in open water, gazing upward to observe the pelagic fish.
Elbaworld suggests
Discover places and attractions nearby.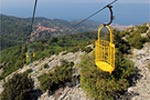 Discover incredibly beautiful excursions on Elba Island.