Shuttle Bus in Porto Azzurro
During summer, the municipality of Porto Azzurro is served by a free Shuttle Bus which connects the old town to the closeby locations, tourist resorts and beaches.
The evening service route takes about 30 minutes, starting from Largo Andreani at 18:30 and stopping at the following locations: Piazza de Santis, Via Dante Alighieri, location San Giuseppe, RV parking, Travaglio parking, Barbarossa , Reale, Mola. The service ends at 01:00.
Elbaworld suggests
Discover places and attractions nearby.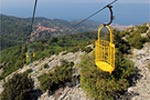 Discover incredibly beautiful excursions on Elba Island.