Shuttle Bus in Capoliveri
The service Marebus, is active from June to September and connects the town of Capoliveri to the main beaches in the municipality, like the ones of Naregno, Straccoligno, Madonna delle Grazie, Lido, Lacona, Morcone, Pareti, Zuccale, Barabarca and Innamorata.
The bus services are performed by the Cooperative Caput Liberum through minibus, active in the high season from 8.00 am until 01.00 at night.
Timetable Summer 2015 Marebus from Capoliveri to the beaches within its municipality
Rates
10-ride card (available in stores) Euro 8.00
4-ride card (available in stores) Euro 4.00
Single fare (on board) Euro 1.50
Info:
Municipality of Capoliveri Tel. (+39) 0565.967611
Elbaworld suggests
Discover places and attractions nearby.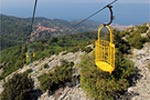 Discover incredibly beautiful excursions on Elba Island.