Marebus municipality of Marciana
The Municipality of Marciana is served from June to mid-September by the Marebus. The service has two routes: the first connects the western resorts (Sant'Andrea, La Zanca, Colle d'Orano, Patresi, Chiessi and Pomonte); while the second connects the seaside village of Procchio with the nearby resorts with stops in Fontalleccio, Literno, Marmi and Campo all'Aia.
The Marebus service, is carried out by the Municipality of Marciana, through blue minibus, which are small and thus ideal to cope with traffic.
• Timetable 2015 Marebus Marciana - Western Ring
• Timetable 2015 Marebus Marciana - Procchio
For more information:
Municipality of Marciana Tel. (+39) 0565.901215
Elbaworld suggests
Discover places and attractions nearby.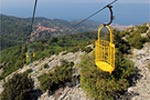 Discover incredibly beautiful excursions on Elba Island.