Spiaggia di Naregno
Spiaggia di Naregno Tourist information
Sandy beach within the Municipality of Capoliveri
Features of Naregno Beach:
Length: 500 meters - Average width: 25 m
Exposed to: winds from Northeast to Southeast -
Sheltered: from westerlies
GD: 42.756213 - 10.402539
GMS Latitude: 42°45'22.37''N - Longitude: 10°24'9.143''E

---
Description of Naregno beach
The beach of Naregno is located halfway the villages of Porto Azzurro and Capoliveri, to which municipality it belongs. Naregno is a quiet seaside resort and its light sandy beach embraces the whole bay for a length of about 500 meters. This location is generally quite busy during summer as it is one of the widest and most equipped beaches in the southeastern coast of the island. This beach is also ideal for families with children, as its seabed slopes gently into the sea due to the presence of some shallows.
On both shore's sides, there are some beautiful cliffs covered by the Mediterranean maquis. The coast offers you very beautiful seabeds for snorkeling, where you can see at short distance from the shore, a very rare and protected colony of Pinna Nobilis (Fan Mussel): the largest bivalve shell in the Mediterranean, today endangered.
The shore has free access zones, beach clubs and rentals. For your needs you have a wide choice among the services offered at the promenade behind the beach, thanks to the bars, restaurants, sailing school and a diving standing there. Naregno is a convenient and equipped place for guests staying in one of the Hotels or Apartments for rent, as well for daily visitors. In fact, the resort is easy to reach by car or by Shuttle Bus, which connects it to the center of Capoliveri throughout the day until midnight. Another useful service is provided by a small boat which is the shuttle to Porto Azzurro.
The beach overlooks the ancient Spanish fortress of San Giacomo, which dominates the village of Porto Azzurro and is now converted into a prison. On the northeastern side of this beautiful gulf, stands Fort Focardo. The name Naregno is the evolution of medieval Aregno, name given by the Spanish from the Latin word Arena, which indicates the sandy shore of this area. On the left of the beach, along a short path between the rocks, you can reach an attractive cave, which stands in front of the Gulf of Mola.
Access to the beach of Naregno
You can access Naregno very easily, both from the village of Capoliveri and from the junction of Mola-Porto Azzurro, just following the directions on the main road.
Amenities available on this beach
| | | | | | |
| --- | --- | --- | --- | --- | --- |
| | Apartments nearby | | Bar | | Connected to Bus |
| | Crowded in the season | | Disabled | | Equipped beach |
| | Hotels nearby | | Lane entrance for boats | | Limited Parking |
| | Nearby grocery | | Restaurants | | Sailing School |
| | Sandy beach | | Snorkeling | | Suitable for Children |
| | Suited to Kayaking | | Windsurfing school | | |
Select all
Bed&Breakfast a Capoliveri
Loc. Gualdo, 39 - 57031 Capoliveri
Online availability request
Elbaworld suggests
Discover places and attractions nearby.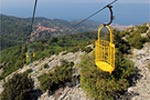 Discover incredibly beautiful excursions on Elba Island.