Guardiola beach
Guardiola beach Tourist information
Sandy beach mixed with pebbles in the Municipality of Marciana
Characteristics of the beach of Campo all'Aia:
Length: 100 meters - Average width: 4 m
Exposed: winds from North-East to North-West
Sheltered: from Southern winds
GD: 42.794154 - 10.248727
GMS Latitude: 42°47'38.956''N
Longitude: 10°14'55.418''E

---
Description of La Guardiola beach
As for the beach of Campo all'Aia, also the small and wild beach of La Guardiola rises at the right of the Gulf of Procchio. It's not very busy even in high summer season, that is why there are often people who bring their dogs to swim. The beach is composed of sand and gravels and there are deposits of dried seaweed carried by sea. The water in front of the beach is partly occupied by buoys where small motor boats are moored .
Despite being wild the beach offers the main services thanks to the nearby beach of Campo all'Aia within five minutes walking distance where there is a bar that offers the possibility of renting umbrellas and sunbeds. For lunch the bar serves traditional Elba's dishes mainly based on local fish.
Further along the coast at the end of the shady beach begins a very nice cliff where you can also relax and sunbathe. On the top of the cliff there is the military building of Guardiola. This stretch of coast is also very nice for snorkeling and underwater fishing.
Access to La Guardiola beach
To reach the wild beach of La Guardiola, it is necessary to do the same path to reach the beach of Campo all'Aia. Then it is possible to reach it crossing the beach of Procchio and then the one of Campo all'Aia with the last stretch made of rocks that separates it from the beach of Campo all'Aia.
Else, take the deviation on the right on the road coming from Portoferraio towards Procchio before reaching the village, then follow the road downhill to reach the sea. There is also a crossroads before reaching Campo all'Aia, there turn right and you will get up La Guardiola beach; however, there is no parking, so it's better to park your car in the parking lot in front of the beach of Campo all'Aia and walk for about 10 minutes.
Amenities available on this beach
| | | | | | |
| --- | --- | --- | --- | --- | --- |
| | Bar | | Beach sand mixed with gravel | | Free beach |
| | Limited Parking | | Not accessible by car | | Restaurants |
| | Snacks | | Snorkeling | | Suitable for Children |
| | Toilet | | Unfrequented | | |
Elbaworld suggests
Discover places and attractions nearby.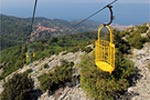 Discover incredibly beautiful excursions on Elba Island.