Laconella Beach
Laconella Beach Tourist information
Sandy beach within the Municipality of Capoliveri
Features of Laconella beach:
Length: 210 meters - Average width: 10 m
Exposed to: winds from South -
Sheltered: winds from the northern quadrant
GD: 42.756844 - 10.295948
GMS Latitude: 42°45'24.693''N - Longitude: 10°17'45.416''E

---
Description of Laconella beach
This is one of the most beautiful beaches of the southern side of Elba, although it is preferable to visit it in the off season.The beach is situated in a quiet and natural ambient between Cala della Contessa and Capo Fonza and it is characterized by golden sand, mixed with medium size smoothed pebbles. Depending on the current it can accumulate stranded seaweed marking the wild appearance of this beautiful bay.
It is advisable to visit it when the winds blows from the northern quadrant as the mistral. despite it provides no bathing services, it is particularly popular among families with children, since the seabed degrades slowly and thanks to the shallows children can swim freely and without fear. On the left of the beach a path between the rocks and an old bunker of World War II leads to Cala della Contessa which is enclosed within cliffs where there is a small pebbly beach ideal for those seeking a bit of privacy. The western side of the small gulf houses the Ghiaieto of Laconella, a beach formed by large gravels and a starting point for diving, snorkeling and enthusiasts of underwater sports.
Access to Laconella beach
Coming down the road of Monumento, before reaching the village of Lacona, at the end of the descent, an indication on the right marks the junction and the beach. From the crossroads continue for about 500 meters past the entrance of a campsite after which the road becomes narrow and unpaved, until you reach two large boulders with a steep path that will lead you to the beach after about 200 meters.
Parking spaces are basically non-existent, if you are lucky you will get the chance to park along the narrow dirt road flanked by the Mediterranean maquis, taking care not to obstruct the passage. In fact it is preferable to reach it by motorbike and by sea, especially in high season when it gets busy.
Amenities available on this beach
| | | | | | |
| --- | --- | --- | --- | --- | --- |
| | Campsites nearby | | Free beach | | Limited Parking |
| | Not accessible by car | | Rocks | | Sandy beach |
| | Snorkeling | | Suitable for Children | | Visited medium |
Elbaworld suggests
Discover places and attractions nearby.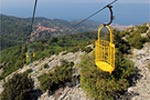 Discover incredibly beautiful excursions on Elba Island.