Spiaggia di Remaiolo
Spiaggia di Remaiolo Tourist information
Sandy beach of the Municipality of Capoliveri
Features of Remaiolo beach
Length: 180 meters - Average width: 25 m
Exposed: winds from the North-West to East - Sheltered: from Easterlies
GD: 42.715820 - 10.412625
GMS Latitude: 42°42'56.952''N
Longitude: 10°24'45.45''E

---
Description of Remaiolo Beach
Remaiolo beach offers a beautiful and peaceful cove, at the end of a wild valley cut in half by a rock called Remaiolo. It offers a sandy beach frequented mainly by guests of the Touristic Village Costa dei Gabbiani, as it is located within the private Village, so to reach it by land is almost impossible unless you have a permit. The beach Remaiolo is one of the few beaches that are located along the Costa dei Gabbiani, but is frequented mostly by guests of the nearby village which has equipped the beach with exclusive services for its guests. The beach is well protected from Easterlies both on the west by a small promontory beyond which there is the beach of Vetrangoli,and on the East by Punta Ripalti.
Besides the beach of Remaiolo you can get to the nearby and lonely beaches of Bianca, Nera and Stagnone. In this part of the coast the land is colored red by the iron present throughout the cape and the beaches are characterized by sand mixed with mineral powders that upon contact with light return spectacular glitter.
There is a particularly beautiful stretch of coast, which extends from Punta Calamita up to Capo Calvo, where the ruins with the rusted remains of the old loading piers of the iron mines of Ginepro. While on this stretch of coast which is called Costa dei Gabbiani numerous ravines overlooking the sea shelter thousands nests of herring gulls .
Access to Remaiolo beach
Remaiolo beach is impossible to reach by land if you are not guest of the Hotel, which is owner of the entire animal reserve that includes a good part of Mount Calamita. The guests of the resort can take a dirt road that starts from the accommodation and continues for approximately one kilometer to reach the beach.
The only viable alternative if you are not a guest of the village and you still want to visit this beautiful beach and this picturesque coastline, is to use a boat and reach it by sea as by land you need to walk a few kilometers on a dirt road.
Amenities available on this beach
| | | | | | |
| --- | --- | --- | --- | --- | --- |
| | Bar | | Equipped beach | | Hotels nearby |
| | Limited Parking | | Not accessible by car | | Sandy beach |
| | Snorkeling | | Visited medium | | Watersports |
Elbaworld suggests
Discover places and attractions nearby.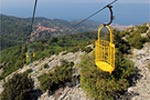 Discover incredibly beautiful excursions on Elba Island.